The SCL QUICK 36E is easy to move and simple to use: it is an ideal compact scrubber drier for use on medium and large hard surfaces. The high contact pressure it provides makes cleaning convenient and yet professional.
Brush with quick release
Removable recovery tank
Squeegee lifting lever
Adjustable flow (automatic start-stop with solenoid valve) of the detergent solution depending on type of surface
Compact reclining handle with control switches
Easy access and simple service of the components
Reclining handle-fit on any operator's height and allowing the perfect cleaning also on 90° corners
Shock-absorbing covers, simple cleaning of the recovery tank, non marking wheels
Easy access to mechanical parts (easy maintenance of each component), removable recovery tank without tools
User friendly analogic control panel
Control lever for brush operation and detergent water outflow
General ON/OFF switch, brush and vacuum motor switch, solenoid valve operation switch  
Parabolic squeegee rubber blades, easy replacement
The floating brush plate and grant the right cleaning squeegee pressure on any type of floor
Ideal for congested areas like small shops, offices, kitchens, schools, hospitals, bars, gyms, restaurants.
Brand: Lavorpro
Product Type: Auto Scrubber
Depression: 850 mm H2O
Vacuum Motor: 400W
Power Supply: 230V
Frequency: 50 Hz
Saubbing Width: 360 mm
Squeegee Width: 460 mm
Working Capacity: 1260 m²/h
Recovery Tank Stop/Total: 12-13L
Brush Motor Power: 370W
Traction: Mechanical
Detergent Tank Capacity: 11 L
Pressure on brushes: 130 RPM
Brush Pressure: 18 kg
Length: 120 cm
Width: 43 cm
Height: 97 cm
Weight: 53 kg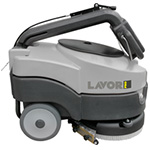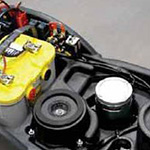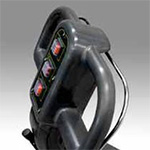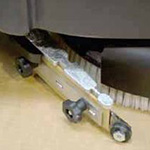 Floor Brush - 1 piece
20m Cable - 1 piece